ACADEMIC ALL-STATE NOMINATION FORM (ON-LINE FORM)
ACADEMIC ALL-STATE NOMINATION FORM (HARDCOPY FORM)
ICGSAsports TWITTER
ICGSAsports FACEBOOK
ICGSAsports INSTAGRAM
IHSAA Calendars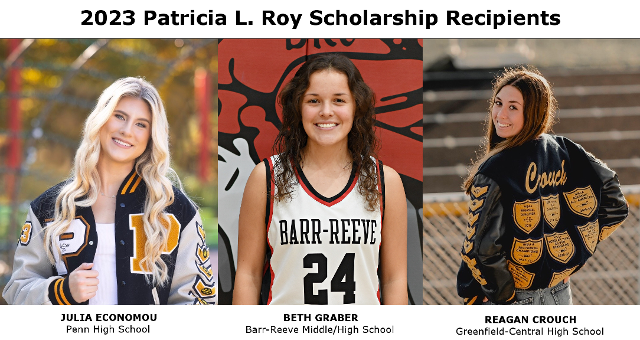 2022-23 ICGSA Athlete Scholarship Winners
MORESCHINI SCHOLARSHIP (COACHES)
Letter from the President's Desk
Kate Todd, ICGSA President addresses the organization.
Read more...
JOIN THE ICGSA ( On-Line Membership Application )
JOIN THE ICGSA ( Mail-In Membership Application )
Varsity Package Membership
Welcome to ICGSA
Welcome to the Indiana Coaches of Girls' Sports Association web site. The ICGSA represents each of the ten girls' sports in Indiana. Our membership is over 1300 Indiana coaches, with representation from all levels of coaching.

We are proud to provide many services for the coaches and opportunities for the female athlete. Our site offers all the forms necessary to nominate athletes for ICGSA recognition in Academic All-state and sport specific recognition such as All-state and All-star teams.

Each of our ten sports has their own sport specific page. You can access each sport for information which includes dates of special events, specific forms, state and district coach of the year information, all-state lists, polling information, records, sport committee contact information, links to other related sites and much more. Each sport is responsible for their page and the information they are sharing.

The ICGSA provides scholarships for coaches continuing their education. The ICGSA proudly presents $500 scholarships each year.

The ICGSA recognizes each State Champion Coach at the recognition banquet in the spring, acknowledges the district and state coach of the year, as well as presenting two very prestigious service awards.

The ICGSA provides an annual all sports Spring Conference. The attendance is approximately 500 coaches each year. Sport specific clinics are presented, general sessions, district meetings, elections, awards banquets, exhibitors, conference social, great conference favors, and much more.

The Indiana High School Athletic Association recognizes and supports the ICGSA.

Through the ICGSA, the sport specific association and the gender equivalent association, sport proposals are presented to the IHSAA for changes and adjustments. We appreciate the relationship we have with the IHSAA and all IHSAA sponsored groups.

We offer coaches a full list of members on line, and the ability to sort by sport specific.

We have online conference and membership registration, and the ability to pay for events on line. We also have complete contact information for our Executive Board Members.

We are organized in five districts, with three representatives from each district. We have five officers. The ICGSA has several auxiliary positions, including web page, awards, exhibitors, newsletter, mailings, membership and conference registration. Each sport committee has a representative from each of the five districts as well.

Welcome, we are pleased to be of service to all those interested in coaching girls sports in Indiana.